ELIZABETH Silver Necklace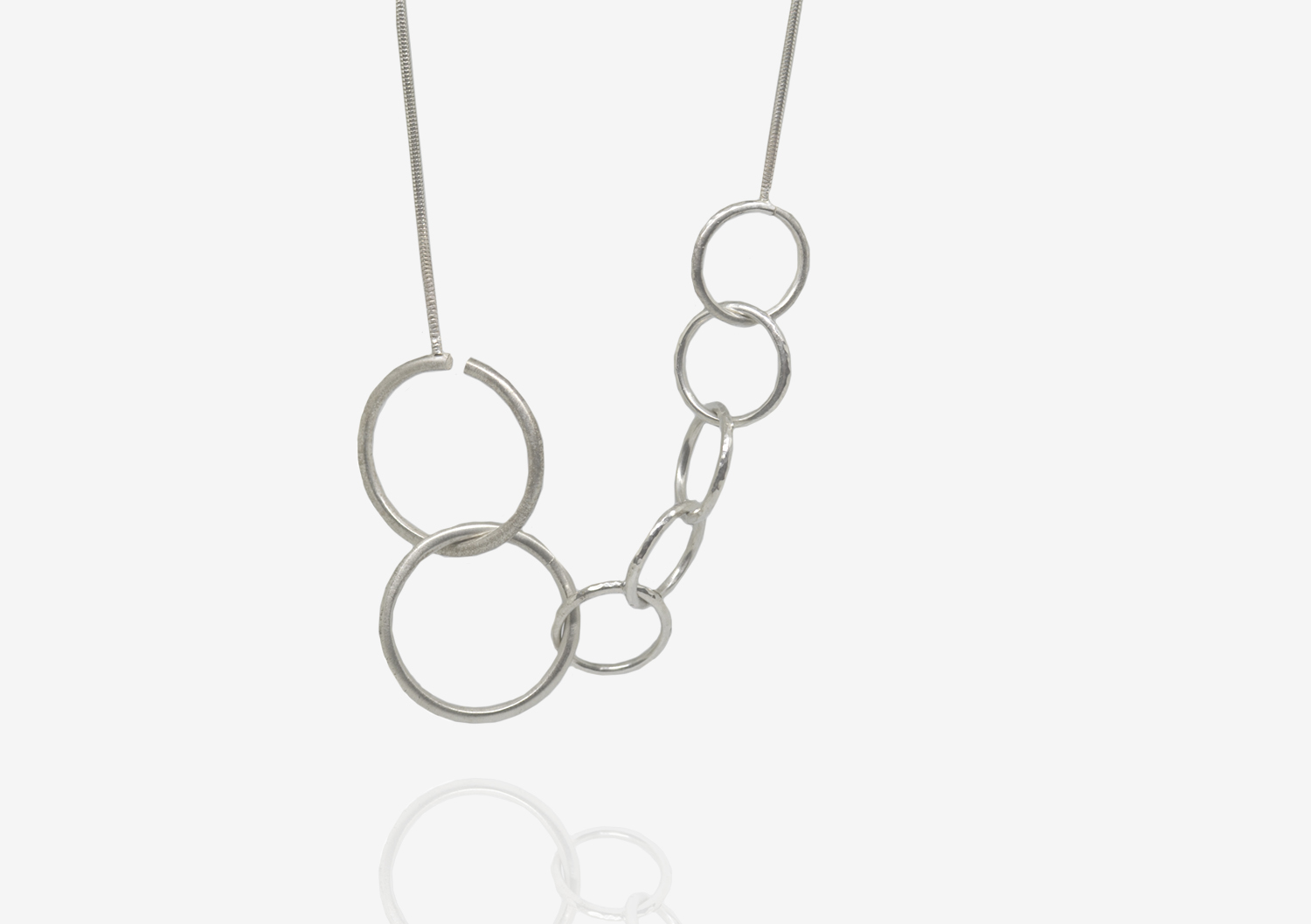 ELIZABETH Silver Necklace
The Elizabeth necklace is a symbol of forever and inseparable.
The necklace is handmade in metalsmithing from 925 Sterling silver. The large links are matt while the smaller links are shiny and hammered. This is a perfect combination of classic jewelry and sophisticated design.
This long and bold Interlocking circle necklace will be great for your day or night outfit and can be worn in several ways for an original look every time.
Minimalist and captivating jewelry that will become your favorite sooner than you think :) There isn't a woman in the world who would not be thrilled to receive this unique gift of love.
Add this classy necklace to your jewelry collection or give it as a gift to a dear woman in your life.


* For a free consultation session, please call +972523916108
or click Here. *

(Piece details below)
DETAILS:
Product: Silver Interlocking Circles Necklace.
Material: 925 Sterling Silver, Snake Chain
Ring sizes
2X Large rings diameter - 20 mm // 0.8"
4X Small rings diameter - 35 mm // 1.3"
Necklace length - 50 cm // 19/6"

This necklace comes in matte finish, for shiny finish - contact us by leaving a message on our CONTACT page.

* Schadel jewelry is made from the best materials available to ensure they are durable and lasting.

HAND MADE
All of my designs are handmade. I use various techniques in my work, both traditional and modern- goldsmith and CAD 3D printing. In my shop you can find unique and original jewelry, designed and made by me.

DELIVERY
Items are shipped within 1-2 weeks after payment has been processed by PayPal.
Please select your preferred shipping method at checkout.

ABOUT
Get to know me better
About me: https://www.schadeljewelry.com/our-story-1/
Instagram: https://www.instagram.com/schadel_jewelry
Pinterest: https://www.pinterest.com/schadel_jewelry